Efficient, Scalable, Profitable: How Automation Software Can Improve Your Current Mortgage System
Not a lot of people sit around on a sunny morning and think, you know what I want to do today? I want to kick off a super complicated mortgage application process right this second. If that's you, awesome. If you're like the rest of us, then we feel your pain. With so many steps to tackle, obstacles to overcome, and information to manage, it's like you're spinning in a thousand directions at once. We got you. Here's why every mortgage company needs a process management strategy to streamline workflow.

Streamline your workflow.
The Lodasoft process management tools help streamline workflow - it makes an assembly line out of a process that usually wastes days because of communication inefficiencies.

When automating workflow, you're only as strong as the system in place. It's important to be able to trust the automation, and the easiest way to establish trust is to lean on people who have been there. Software that's been developed by mortgage veterans should be at the top of the list; people who know what it's like and want the industry to succeed.

Mistakes cannot always be avoided, but rarely are problems destructive when there is proper support. There are four reasons why every mortgage company needs a process management tool to streamline workflow: You can better manage your client info, there is proper communication between all parties, you can actually follow a schedule, and you can help control the chaos. While these are all excellent tools in your toolbox, there is one other tool you need. Here's how to leverage email marketing as your best future marketing tool.

Evolve Your Emails.
In the mortgage world, email has evolved beyond simple transactional correspondence; it's your new line to lifetime customers. Americans will own an average of three homes over their lifetime – and will likely refinance their mortgage at some point during that time as well. If you aren't nurturing the customer relationship after the loan has closed, you're likely to lose that customer. This is especially true in the age of online consumerism where customers prefer to shop the internet when the idea of a new home or refinancing crosses their mind. Plant the idea seeds early and get a step ahead with email marketing.

With an integrated software tool, you can turn email click-throughs into loans quickly. To maximize mobile email marketing, ensure your templates are mobile-friendly, personalized, and relevant, just like your customer service is. Let Lodasoft's integrated software help you.

Out With the Ladder, in With the Conveyor Belt.
When Henry Ford developed the assembly line, one pivotal component ensured maximum efficiency for employees: the conveyor belt. The belt moved through the factory so employees didn't have to: they could stay in their area and focus on specialization. This kept a continuous flow throughout each step of the manufacturing process. It worked so well, Ford's assembly line process has been replicated in numerous industries – even in the digital age.

The mortgage lending process can feel like it has more moving parts than an automobile, which is why an optimized tool is critical for both lenders and customers. The right mortgage customer relationship management (CRM) tool is specialized for the industry and serves as the conveyor belt through every step of the process. Another way to streamline that process is simple - automate it. You can read more about loan production automation here.

More Loans & Faster Closing.
The mortgage process is best when technology and humans complement each other to provide clients with a smooth and efficient, yet personable experience. From awareness to action, the more quickly and efficiently you can keep leads moving down the mortgage sales pipeline, the better, for all involved parties. This is where automation takes over the grunt work so you can provide the personal touch.

Intelligent loan manufacturing with an optimized CRM tool pulls contacts through each touchpoint of the loan journey for an automated experience that keeps your costs down. Also, by combining a POS system with an already optimized CRM, we cut out the gap in that disconnect and streamline that process for you and your client. By streamlining the rudimentary functions of lending and list management with technology, you're freed up to focus on the business and, most importantly, the human connection with customers. Learn how Lodasoft can help you focus on what's most important here.

Create Customers for Life.
The home buying and mortgage business is anything but a typical nine-to-five operation. That's why access to 24-hour accessible technology behooves everyone in the process, from borrowers to lenders to realtors.

An automated borrower portal can both satisfy the neediest of customers and serve the just-get-it-done-quick crowd for a positive lending experience, and likely repeat business. Automating your borrower portal creates customers for life by: bringing the whole team together, ensuring document posterity, adding human value by subtracting manual processes, and our personal favorite; return and refer. Learn how to dial in your return and refer strategy here.

Focus on Growth.
The mortgage lending process can feel incredibly fragmented. There are varying roles within the lending process itself, communication with borrowers and realtors and a wide range of adopted technology used by each of these parties. Somehow, bouncing among these technologies at varying stages of maturity, all the data and documents have to make it to closing. And to add to the chaos, things need to get done faster.

Enter: artificial intelligence (AI). By harnessing the speed and adaptability of computers to create operational efficiencies, your team can focus on what borrowers want: more human interaction with their lender.

With artificial learning, you can improve operational efficiencies and enhance the consumer and borrower experience. These are just two of the massive ways that artificial learning can handle lending and free your team to focus on growth. We've got more of them for you, if you'd like.

Land More Loans.
Automating your mortgage production line can land you more loans, for less money, with no downtime. Software is the new back office, and we're not talking that back office that is cluttered and dusty, with leftover potluck silverware and red solo cups. Automation is the future of lending, and those who are resistant to adoption may be saddled with clunky, outdated operations and costly inefficient use of resources. Digital platforms with capable APIs must do a great job of creating simplicity where technology can otherwise feel complex. With the ability to integrate into existing systems and communicate within and among other technologies, the right software can reduce overall operating costs and get more loans to closing, a lot faster.

The proof is in the volume. In a mortgage operation, the core system of record is the LOS. A good system will not only source more leads, but qualify leads, using artificial intelligence to suss out potential borrowers who may be at greatest risk to default on loans. By automating communication processes, software keeps you looking engaged, keeps the customer aware and lands you with more loans.

Software allows borrowers, lenders and realtors to complete tasks and upload documents at a time that's convenient for them. Mobile solutions enable fingertip-ready completion, enhanced with notifications that can let stakeholders know when they're on deck for the next task. If you need help with that next task, we can help you learn more.

That's Nice, But We Have a Strategy.
Client retention starts with a seamless, client-centric initial experience. Lodasoft's Intelligent Loan Manufacturing solutions help you focus on growth and income while automating the manual processes. We get it, it's hard to dig out of your grooves. You've been doing this for a while, but there are four reasons why current mortgage client retention strategies don't work: you're blasting your clients with the same message, you're relying only on technology for retention methods, you're holding on as the keeper of all knowledge, and you're only using a one-way message. If you think you're doing any of these, we can help with these tips.

Become Efficient, Scalable, and Profitable.
Lodasoft's mortgage production software can improve your current mortgage system by helping you become more efficient, scalable, and profitable thanks to the brilliance that is automation. By automating your mortgage production line, you help eliminate human error, while elevating human connection, all while streamlining the process enough to enjoy your coffee in the morning instead of worrying your way through an overly complicated application system.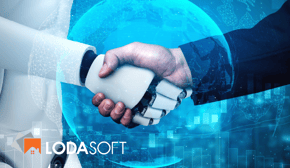 Marketing Team
The Lodasoft Executive team is comprised of top mortgage industry veterans who have lived on your side of the fence for 20+ years. With experience at companies such as Loan Depot, Black Knight, GE Capital, ISGN, and more, our deep industry knowledge allows us to provide real-life solutions that come from real-life challenges.
Lodasoft - The Digital Mortgage Platform
The award-winning Lodasoft Digital Workflow Platform leverages enterprise intelligent loan manufacturing (iLM) to drastically reduce the cost to originate. Lodasoft enhances workflow throughout the enterprise's lending lifecycle by implementing task-based automation, identifying training opportunities, and freeing branches and internal staff to focus on growth.
Recent Blog Posts
Categories
Newsletter Signup
Sign up to receive news and updates from Lodasoft.